Booking abandonment remains a significant issue in the online travel business.
According to SaleCycle, 87% of all travel bookings are abandoned before checkout. Sometimes, it isn't the travel platform's fault. Customers could just be browsing or comparing prices from various sites.
However, in many instances, the website or app is simply not engaging enough, or the travel platform has other issues that drive customers away, such as a slow loading page, hidden fees, etc.
So, how do you keep engaging the customers and convince them to purchase your travel products?
Before digging deep into answers to this question, you need to understand the meaning of booking abandonment and the factors behind it.
What is booking abandonment?
Booking abandonment / reservation abandonment is when potential customers leave your website before checking out. They may have even gotten to the final step of the payment process before clicking away for some reason. As a result, you are left with fewer customers, lower revenue, and a poor return on investment on your marketing and website design costs.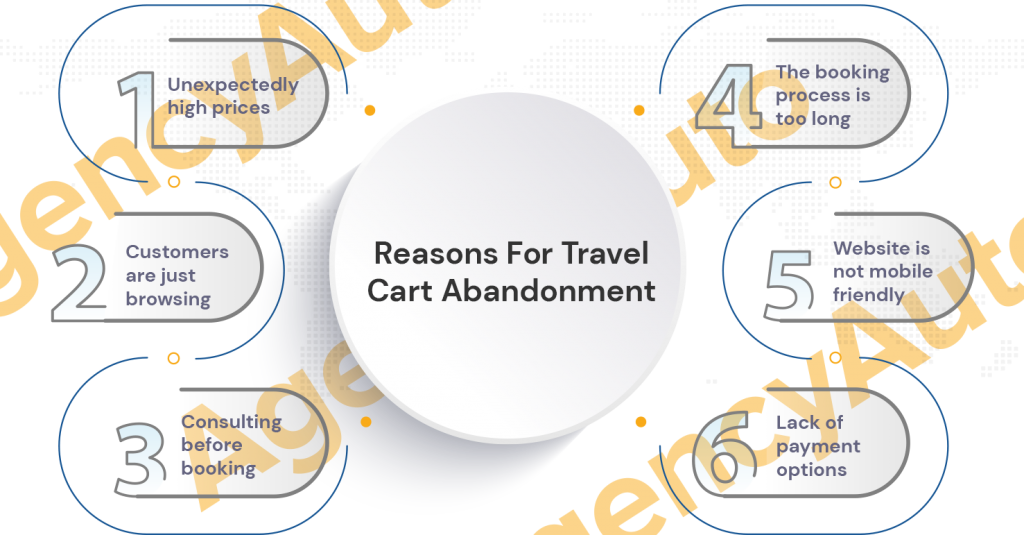 Why are booking abandonment rates in the travel industry so high?
According to SaleCycle, the following reasons significantly impact the booking abandonment rate.
• Account creation before purchase
Before making any booking, some merchants require their consumers to register. But customers are not comfortable providing the details to make a single booking.
• Prices are too high
Almost half of the customers say unexpected costs are the main reasons for abandoning their booking.
• Need to check with other travelers
It isn't easy to organize a trip for two or more people. So, travelers discuss with their buddies before making any booking decisions.
• Need to check with other travelers
A recent study found that 87% of online travelers abandon their carts during checkout if the process is too long or complicated.
• Technical issues
Technical issues can erase all the previous efforts the customer has made or unnecessarily increase the waiting time.
• Lack of payment options
Also, the lack of preferred payment options is a factor in the increased booking abandonment rate.
What can be done about booking abandonment?
With the right tools and practical strategies, travel agents can reduce abandonment rates and gain a greater return on investment.
Let's explore some strategies you can leverage to tackle booking abandonment.
• Clarity over pricing
One of the primary reasons for booking abandonment is a lack of transparency in pricing. Most websites don't show the complete price on the home page. So, when the user reaches the checkout page, the new price comes as a surprise. This may become a deterrent for the users to complete the checkout.
To tackle this situation, display the detailed price to the user on the product page. This helps the customer know the price to be paid and ultimately leads to a lower booking abandonment rate.
• Clear cancellation and refund policies
To minimize booking abandonment, it is crucial to add your cancellation and refund policies to your website. This gives the customers peace of mind because they can get their money back conveniently if they decide against the trip.
• Make the booking process easy
To lower your booking abandonment, you must simplify the booking process. Complicated registration and payment processes make customers distracted and frustrated. So, including user-friendly forms, preferably asking a few basic details on a single page, and letting the customer checkout in a few clicks is the way to go to avoid customer burnout with your booking process.
• Build a mobile-responsive design
A poorly designed site or booking portal or app that can't provide a mobile friendly experience to customers will drive away 36% or more of your potential customers who make it to the checkout page. So, travel companies need to prioritize building mobile responsive sites that are easy to navigate, visually appealing, and secure.
• Provide a choice of payment methods
Travel websites must keep up with the customer's payment preferences to reduce booking abandonment. Ensure that you go beyond the usual credit cards and debit cards and let customers pay with new age methods, like digital wallets, UPI, etc. Besides, you need to be able to accept payments from third parties that facilitate corporate payments.
Conclusion
While 100% booking conversions are impossible, you can follow the above effective ways to reduce booking abandonment significantly. AgencyAuto provides an intuitive and easy-to-use portal with rich features like multiple inventory options, a fast-booking engine, different payment methods, and a mobile-responsive design. We have helped countless clients sell their inventory online and maximize conversions. Reach us to help you tackle booking abandonment and unlock your growth potential.