GDS systems like Amadeus, Sabre, Travelport, Galileo, and so on for the longest time, provided a solid platform connecting several aggregators. This is due to data standardization and a simplified user experience that every GDS follows. Technically, this is designed to maintain the data speed and performance even after processing ten thousand booking requests.
The results derived from GDS inquiries are governed by availability, airline preferences, fare rules, and other determinants set by the airlines or the GDS. 
Moreover, it requires a GDS-trained employee to sort/filter data and manage the bookings.
For example, 
In Amadeus GDS, when you ask for flight information, the basic format or query responses will look like this:-
IA123 LHR JFK 09:30 15:45 Indian Airways $350
LH456 FRA LAX 12:15 20:00 Lufthansa $420
AF789 CDG SFO 14:00 22:30 Air France $390
When they interact with their customers, travel agencies will take some minutes or even hours of their time to cross-check before replying back to their customers for each booking. The communication will be via emails, calls, and messaging until the payment and confirmation. This could last from hours to days to finish the booking.
What sort/filtering options travel agencies are missing out when they aren't using an automation solution?
1.Customer preferences
A travel agency software will immediately recognize customer preferences based on the previous history of records. It pulls out the customer history details and sketches how to personalize the offers. Whereas, in the manual process, the travel agents need to refer to all the past emails to understand what offer should be given.
Seat preferences – GDS shows flight details followed by seat availability – economy class, premium economy class, business class, first class, and seat map. With travel agency software, it can filter out personalized offers by the customer's seat preferences with the history of data available.
Meal options – The GDS typically will only show the flight details, meal availability, meal types, special requests, travel ancillaries, and seat class type upon request. This will display in the text-based format as attached above. The travel agents then convey the information to the customer, get a response and finally confirm the details. This is easy to manage with travel agency software where fare comparison happens within just a few clicks.
Loyalty programs – GDS may display the loyalty program's icon or symbols, loyalty mile offers, showcase redemption offers, and eligibility criteria.
All the above features are easy to filter and sort with a self-booking tool which can display with an interactive text-based format giving a shopping experience.
2.Fare Comparison
They should then discuss the benefits of each travel option to the customers, and make informed decisions based on their preferences, budget, and travel requirements.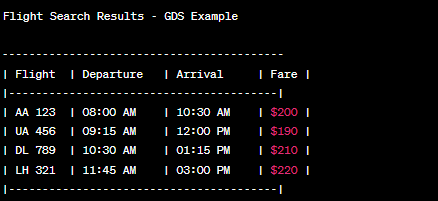 With travel agency software like AgencyAuto, the fare comparison gives an easy-to-view output where the customers get to view the compared fare and pick their preferred option. This surpasses the agent's need to actively communicate about the details as everything is online.
On the flight search page, travel software will have – airlines, time/duration, number of stops, fare types, departure, arrival, seats left, and refundable fare as shown below.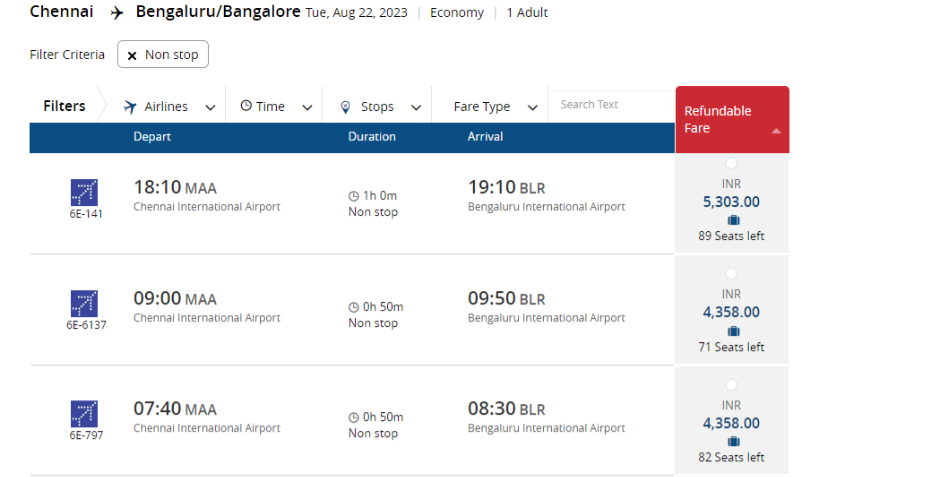 3.Advanced Search Options
Advanced search/filter options in GDS will have their own separate queries that a GDS-trained employee will need to input. It might have the options to retrieve date options, special fares, seat types/classes, layover time, number of stopovers, stopover city/cities, and so on. But it will also be in the text-based format shown below.

A self-booking tool will show advanced search and filter options where the customer can easily pick and pay for a complete travel journey they require. The filters include – day of departure, duration, arrival, airline, number of stops, fare types, and refundable fares.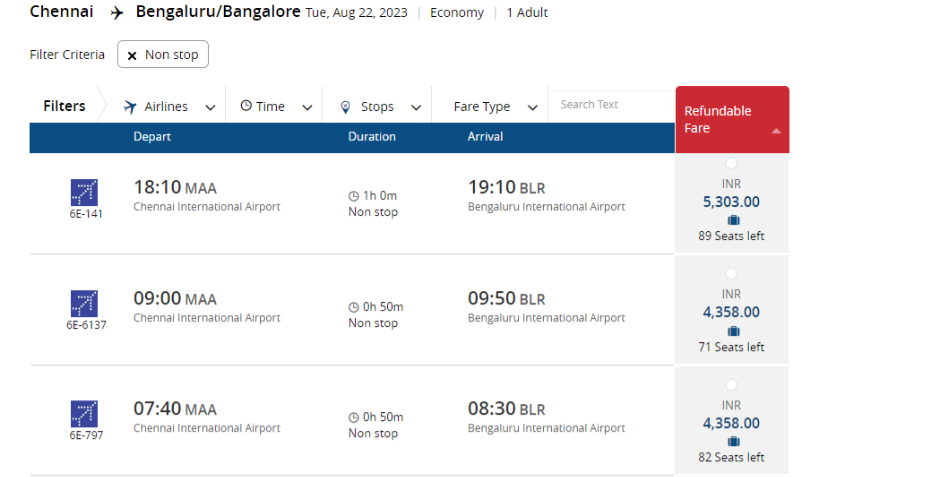 It will list the airline route, duration, total price, and number of seats left. This feeds the customer experience and forges loyalty.
4.Travel Ancillaries
GDS provides travel ancillaries in a text format to agencies, who then relay them to customers.
These details include baggage allowance for each fare class, total baggage weight, number of baggage allowance, seat allowance, meal options, lounge access, travel insurance, and wifi/entertainment.
While in a travel software solution, the details will be listed as shown below: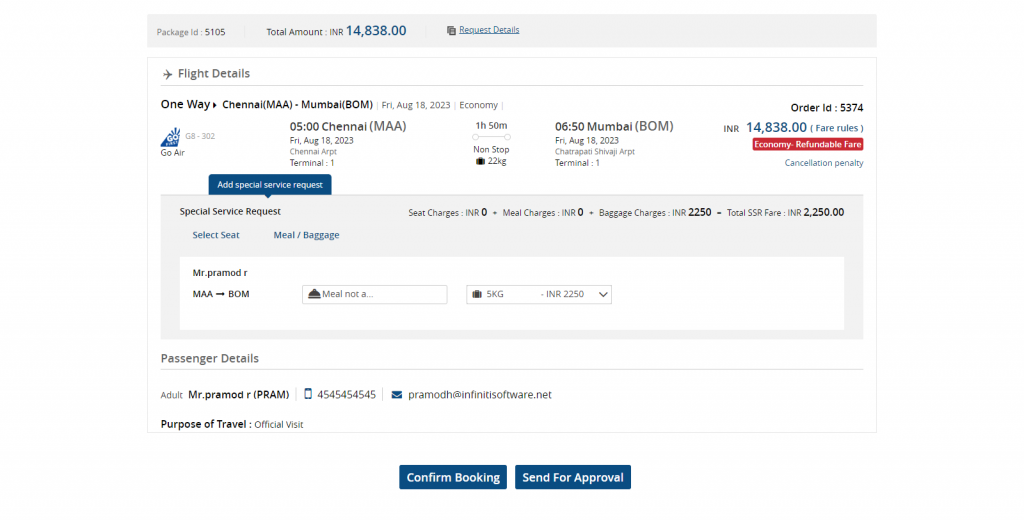 This will be super-interactive where the details are listed in a user-friendly manner. This is an extra point customer experience to understand the travel details easier.
As a bonus context, we would love you to know that a self-booking tool supports Multi-GDS Integration and Customer Profile Creation
The multi-GDS system is the ultimate access point for all types of travel agents among different reservations on several systems. By integrating with multiple GDS providers, any travel agency will gain access to a wide range of travel inventory, including flight schedules, seat availability, hotel options, car rentals, and more. This ensures that travel agencies can offer a comprehensive selection of travel services to their customers.

Customer profile creation – A self-booking tool would create a customer profile and simplify its tracking. When a customer interacts with the agency, their data is captured and stored in the system, creating a profile that includes essential information such as name, contact details, travel preferences, past booking history, loyalty program information, and more.
Conclusion
By using travel agency software, travel agencies can stay competitive, provide seamless and efficient services, and elevate customer satisfaction levels. It empowers travel agencies to optimize their operations, make data-driven decisions, and enhance their position in the dynamic travel industry. 
With an array of features and advanced functionalities, travel automation solutions have become a game-changer for modern travel agencies, offering them the opportunity to thrive in an increasingly digital and customer-centric landscape.