Travel agencies are accessing real-time information about flight schedules, hotel availability, car rentals, and other travel-related services with the help of GDS-trained personnel. This allows travel agents to make bookings and reservations on behalf of their clients.
For its significant role in the travel industry, travel agencies prioritize employees who have undergone formal training and obtained GDS certification. This training furnishes staff with the latest skill sets required to navigate the system effectively, conduct comprehensive flight searches, compare fares, manage bookings, generate tickets, and handle reservations adeptly.
However, there are a lot of difficulties in hiring, training, and retaining a GDS-trained employee. The list is as follows,
Proficiency in GDS commands, NATO phonetics, and coding is a must for an employee to operate a GDS system effectively. With skill levels of GDS systems ranging from basic to advanced, employees may require extensive training of six weeks or more to achieve proficiency.
It is financially burdensome to hire and retain employees who know GDS. Travel agencies need to allocate financial investment for trainers, training materials, and getting access to the GDS system. This poses a significant challenge for agencies operating on a budget-first approach.
It consumes a lot of productive time. GDS training demands a substantial time away from employees' regular duties, impacting overall productivity.
GDS systems continuously evolve, update and add new features hence, the employees need to stay updated with the changes, which can be challenging in a fast-paced industry.
The complexity heightens when travel agencies utilize multi-GDS for their operations. With each GDS system differing from one another—be it Sabre, Amadeus, Travelport, or Galileo—the learning curve steepens, consuming more time and financial resources. Here's where a travel automation solution comes into play, enabling travel agents to use travel agency management software without requiring technical expertise
Bookings Without A Travel Agency Software
In the absence of dedicated software, travel agencies resort to using shared logins to handle bookings. This approach, however, leaves no trace of an agent's activities, making error tracing, dispute resolution, and performance metric tracking difficult.
Every booking request received has to be operated by commands to handle the GDS data. After the payment and booking confirmation, the travel agent will take a screenshot of the confirmation and send it to the customer manually via email or messaging platforms.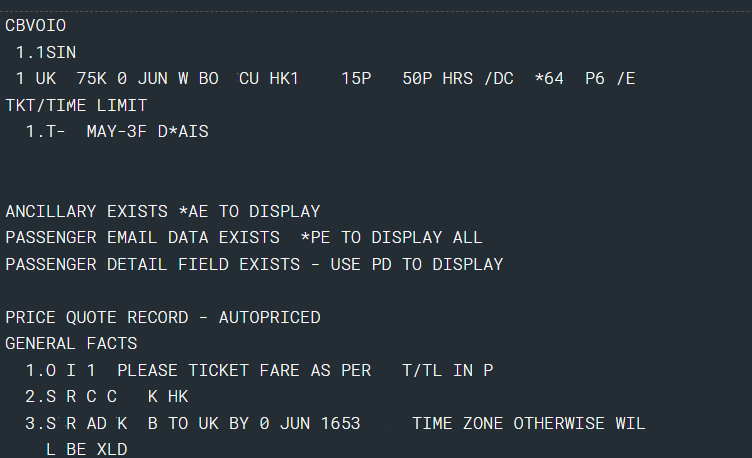 This involves a lot of manual work, and operating the system requires an advanced GDS skill level. Moreover, the system doesn't have the flexibility options for categorizing customer profiles, rescheduling, and cancellations as these will result in a longer process.
Challenges for Travel Agencies Relying On GDS-trained employees,
1. Workload prioritization
When the employees are working through their manual process using GDS queues, they struggle to identify their workflow priorities. They usually receive higher volumes of tickets and usually feel lost in the multitude of information. This could bring a lot of uncertainties in certain situations leading to lost opportunities.
2. Time Consumption
Constant switching between GDS and different airline websites for inventories is not only time-consuming but also complicates the booking and quoting process.
3. Hindered Cross-selling
Without travel software, understanding customer behavior or profiling becomes challenging, leading to missed cross-selling opportunities of travel ancillaries and resulting in revenue losses.
Bookings With A Travel Agency Software
It is all a one-click process where 95% of the bookings will be automated. Travel agency management software will allow travel agencies to smoothly handle their bookings with limited manual intervention. However, GDS-trained employees are still needed to manage complex itineraries, approvals, cancellations, booking refunds, and provide personalized assistance to customers. The software offers travel agencies 360-degree control over bookings, eliminating the need for deep technical knowledge required by the GDS system.
Check the automated bookings queued up in the travel agency login. Only the rest of the 5% of the bookings will need human intervention.
Benefits Of Using A Travel Automation Solution
1. Simplified Inventory Management
No more juggling between GDS and airline websites. The travel automation solution enables efficient access and management of bookings.
2. Reduced Man Hours/ Human Workforce
By leveraging automation, the need for a large workforce of GDS-trained employees is minimized, leading to cost savings and alleviating the challenges of recruitment and retention.
3. Enhanced Customer Profiling
The travel software solution enables convenient customer profiling, facilitating a better understanding of booking preferences and behaviors.
Conclusion
For travel agencies aiming to maximize revenue opportunities with limited resources, AgencyAuto is an excellent choice! It is a complete travel software package that is capable of integrating multiple GDS, NDCs, aggregators, and direct airline APIs streamlining the mid-office and back-office operations. It greatly contributes to increased productivity, faster operations, and reduced man hours.
Schedule a demo with us to unlock the full potential of AgencyAuto!